We have a 12-step cleaning program developed especially for upholstery! Here are the steps that we take:
Pre Inspection ~ Our Cleaning specialist will inspect the upholstery, noting fabric type and soiling conditions. He will also advise you of any possible permanent staining.
Pre Vacuum ~ Your carpet will be thoroughly vacuumed to remove dry soil. Removing dry soil is one of the most important steps in cleaning.
Floor Protection ~ Your carpet or wood floors will be protected with an absorbent material to ensure we do not drip or over spray as we clean the upholstery. ***WE ONLY CLEAN MICRO-FIBER OR MICRO-SUEDE UPHOLSTERY ON-SITE; ALL OTHER UPHOLSTERY MUST BE CLEANED IN OUR WAREHOUSE***
Pre Spray & Pre Spot ~ The fabric is "pre-sprayed" with special cleaning compounds specially designed for your particular fabric and soil condition. This loosens up the soil to make cleaning more effective.
Pre Agitate ~ The pre-spray will be worked into the fabric with a white towel or a horsehair brush, specially designed for this use.
Rinse & Extract ~ Once the soil has been loosened, we will thoroughly flush the fabric with our specially designed upholstery extraction tools. This step sanitizes and deodorizes the fabric. Water pressure is regulated so that fabric is not flooded.
Neutralize ~ Every piece that we clean is pH balanced so there is no sticky residue left behind. This treatment is applied as a rinse through the machine or is applied after rinsing depending on soil conditions.
Post Spot Treatment ~ If any spots are not removed during the cleaning process, specialty spotting techniques are employed.
Dry Toweling ~ The fabric will be toweled for moisture absorption to facilitate drying.
Speed Dry ~ High velocity air movers are set in place to speed dry the upholstery.
Post Grooming ~ If the fabric has a knap (i.e. suede), the knap is set in one direction using a grooming brush or white towel.
Post Inspection ~ This area is inspected by cleaning specialist and then by the homeowner during our post inspection to let us know that you are pleased and then will sign our service receipt.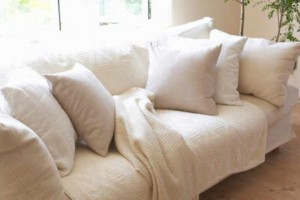 We charge by the "linear foot" for upholstery cleaning.